Mushroom Ceviche
Ceviche De Hongos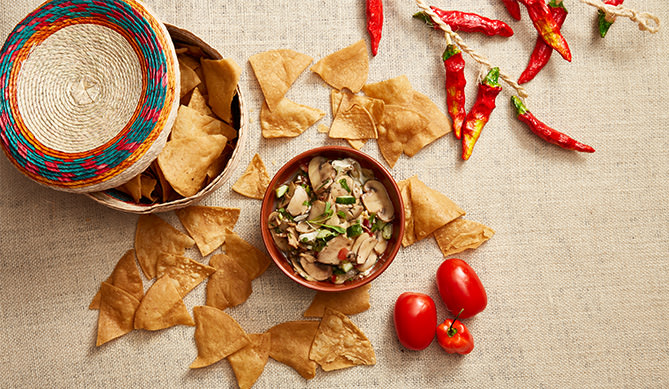 This is a great alternative to the classic seafood ceviche dish that has all the same fresh flavours.
Ingredients
200g La Tortilleria totopos (tortilla chips)

375g of mushrooms (porcini/shitake/oyster/white button/portobellos all work well), finely sliced

½ cup fresh lime juice

⅓ cup olive oil

1 cup diced red onion

1 cup of fresh coriander, chopped

¼ cucumber, diced

1 tomato, diced

1 jalapeño chile, finely sliced

Salt to taste

1 avocado, sliced
Cooking Instructions
Place the sliced mushrooms in a bowl then add the lime juice and olive oil. Toss until combined. Cover and rest for 30 minutes in the fridge.
In the meantime, combine the mushrooms with the onion, coriander, cucumber and tomatoes.  Add salt to taste.
Place the mix into individual serving glasses and garnish with sliced avocado and chopped fresh chile (if desired).
Enjoy the ceviche with the totopos and a nice tequila cocktail.
¡Buen Provecho!
We are makers of award-winning traditional corn tortillas and tortilla chips, sold Australia-wide
Where to Buy
Want more Mexican? Get recipes, tips and news straight to your inbox!
You may also like: