Ceviche with Totopos
Cured Fish Dip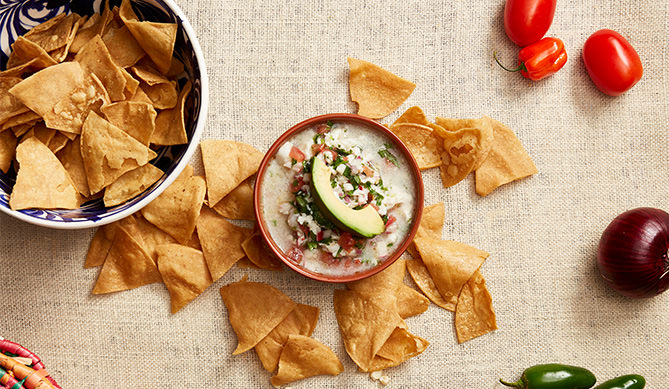 On the coast of Mexico is Veracruz, known as the epicentre of ceviche. A great summer food, this dish is found on the beaches of Mexico all year round, made using only the freshest 'mariscos', straight from the ocean. Use whatever fresh high-grade seafood you have available locally.
Ingredients
200g La Tortilleria totopos (tortilla chips)

200g fresh fish (e.g. barramundi)

Juice of 3 limes

1 tomato

¼ cucumber

½ white salad onion, finely diced

½ jalapeño

¼ bunch coriander, chopped (about 45g)

30ml olive oil

½ avocado, to serve

Salt, to taste
Cooking Instructions
Cut the fresh fish into small cubes and place in lime juice to marinate for a minimum of 30 minutes in the fridge.
In the meantime, finely dice tomato, cucumber, onion and jalapeño then combine with the coriander and olive oil.
Once prepared, add the fish to the tomato mix and combine and season to taste.
Place the mix in a serving bowl and garnish with sliced avocado.
Serve your ceviche with totopos.
¡Buen Provecho!
We are makers of award-winning traditional corn tortillas and tortilla chips, sold Australia-wide
Where to Buy
Want more Mexican? Get recipes, tips and news straight to your inbox!
You may also like: