Chilaquiles con Huevo
Chilaquiles with Eggs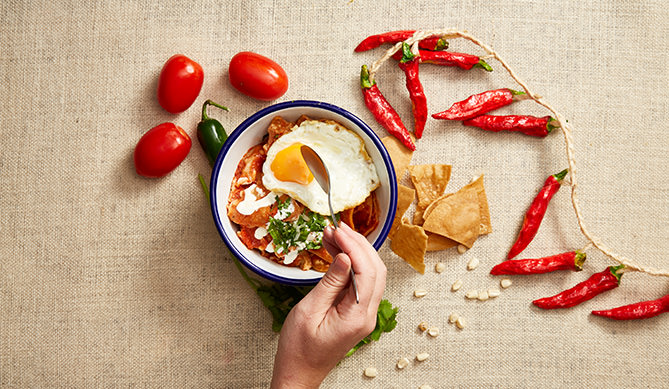 What's commonly known as 'nachos' in Australia is actually not traditional Mexican food at all. Instead it originated on the USA/Mexican border in the 1940's. The story goes that a guy called Nacho (a common nickname for the name Ignacio) threw together some old left overs for the wives of US soldiers based in the area. They came to know this dish as 'nachos' after the man himself. The closest dish to nachos in Mexico is 'Chilaquiles', a traditional dish that comes from the Nahuatl (Aztec language) 'chīlāquilitl', literally meaning 'soaked in chile'.
Ingredients
200g La Tortilleria totopos (tortilla chips)

150g grated mozzarella

2 free-range eggs

2 tbsp sour cream

2 tbsp fresh coriander, chopped

½ white onion, finely diced

Optional: 150g free-range chicken, cooked & shredded

1 small onion

80g roasted peppers

400g tomatoes (about 5)

1 chipotle chile in adobo (or roasted jalapeño)

1 garlic clove

1 tbsp cooking oil

2 tsp dried cumin

2 tsp ground coriander

Salt, to taste
Cooking Instructions
To create the salsa, combine the salsa ingredients (except cumin, coriander and oil) and blend in blender until smooth.
Heat oil in a pot and add cumin and coriander until fragrant. (Tip: be careful as this is easy to burn!)
Add the blended salsa mix to the pot and bring to the boil, simmering for 5 minutes.
Fry the eggs in a frypan and set aside.
Place totopos and cheese in a large bowl. Pour the sauce over the top (and shredded chicken if you like). Toss to combine.
Place the mix into two serving bowls and top each with a fried egg, sour cream, onion and fresh coriander.
¡Buen Provecho!
We are makers of award-winning traditional corn tortillas and tortilla chips, sold Australia-wide
Where to Buy
Want more Mexican? Get recipes, tips and news straight to your inbox!
You may also like: