Chipotle Cauliflower Taco with Fetta & Avocado
Tacos De Coliflor Con Chipotle
Chipotle Cauliflower Taco with Fetta & Avocado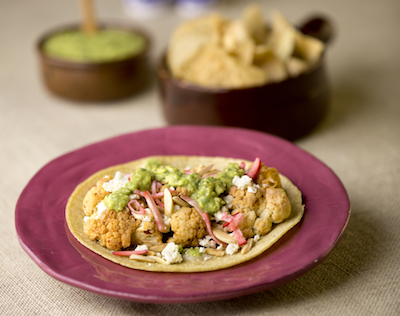 The king of veggie tacos! This cauliflower taco recipe is easy & has the perfect combination of softness & crunch, citrus & smokey.
Ingredients
15 La Tortilleria corn tortillas

1 cauliflower

4 small radishes, finely sliced

1 lime, juiced

½ cup almond slivers

200g vegan fetta, crumbled

1 avocado

2 limes, juiced

20g fresh coriander, finely chopped

1 jalapeño, finely chopped

1 clove garlic, crushed

2 tbsp water

Pinch of salt

1½ tbsp chipotle in adobo, chopped

¼ brown onion, sliced

2 cloves garlic

2 limes, juiced

1 tbsp agave syrup or honey

½ tsp cumin

½ tsp salt
Cooking Instructions
Pre-heat your oven to 240oC. Combine the cauliflower marinade ingredients in a large bowl. Cut your cauliflower into florets & toss in the marinade until coated. Place on a tray lined with baking paper & bake for 20 to 25 minutes.
Squeeze lime juice over your radish slices to marinate them, & set aside until serving time.
Avocado salsa, cauliflower marinade
Combine the avocado salsa ingredients until smooth. Alternatively use a blender.
In a dry frying pan (no oil) over medium-high heat, toast almond slivers until golden, stirring constantly. Remove from pan.
In the same hot dry pan, heat your tortillas one by one until soft, hot & floppy, flipping 2 or 3 times. Wrap in a tea towel until it is ready to serve.
To assemble your taco, place baked cauliflower on your warm tortilla & top with almond slivers, crumbled feta, radish slices & avocado salsa.
¡Buen Provecho!
We are makers of award-winning traditional corn tortillas & tortilla chips, sold Australia-wide
Where to Buy
Want more Mexican? Get recipes, tips & news straight to your inbox!
You may also like: