Fish Taco with Chipotle Mayo & Avocado
Tacos De Pescado Al Chipotle
Fish Taco with Chipotle Mayo & Avocado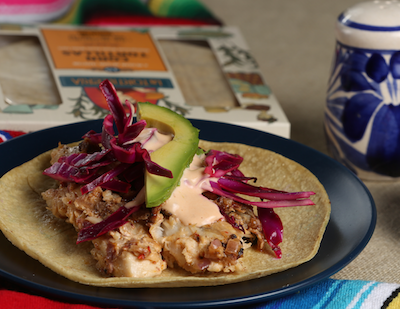 Ingredients
15 La Tortilleria corn tortillas

900g barramundi fillets

1 tbsp cooking oil

¼ red cabbage, shredded

1 tbsp olive oil

Juice of 1 lime

Salt & pepper, to taste

Wedges of lime, to serve

Avocado, to serve

⅔ cup mayonnaise

1 red onion, finely chopped

1 clove garlic, crushed

1 tbsp chipotle in adobo, finally chopped

Salt & pepper, to taste

¾ cup mayonnaise

2 tsp chipotle, finally chopped

Salt & pepper, to taste
Cooking Instructions
Combine all the marinade ingredients in a bowl. Coat the fish fillets in the marinade and set aside.
In a large bowl, combine the cabbage, olive oil, lime juice and a pinch of salt and pepper, then toss using your hands. Squeeze the cabbage gently as you do this; it helps to soften it.
Combine the chipotle mayo ingredients in a small bowl.
Heat cooking oil in a large frying pan or BBQ plate over medium heat. Cook the fish for 2 to 3 minutes each side, or until cooked through.
Heat a dry frying pan (no oil) over high heat. Heat your tortillas one by one until soft, hot and floppy, flipping 2 or 3 times. Wrap in a tea towel until ready to serve.
To assemble your taco, place pieces of fish on your warm tortilla and top with red cabbage, avocado slices and spoon on some chipotle mayo. Place a wedge of lime on the side, and serve.
¡Buen Provecho!
We are makers of award-winning traditional corn tortillas and tortilla chips, sold Australia-wide
Where to Buy
Want more Mexican? Get recipes, tips and news straight to your inbox!
You may also like: