Cochinita pibil
Marinated slow-cooked pork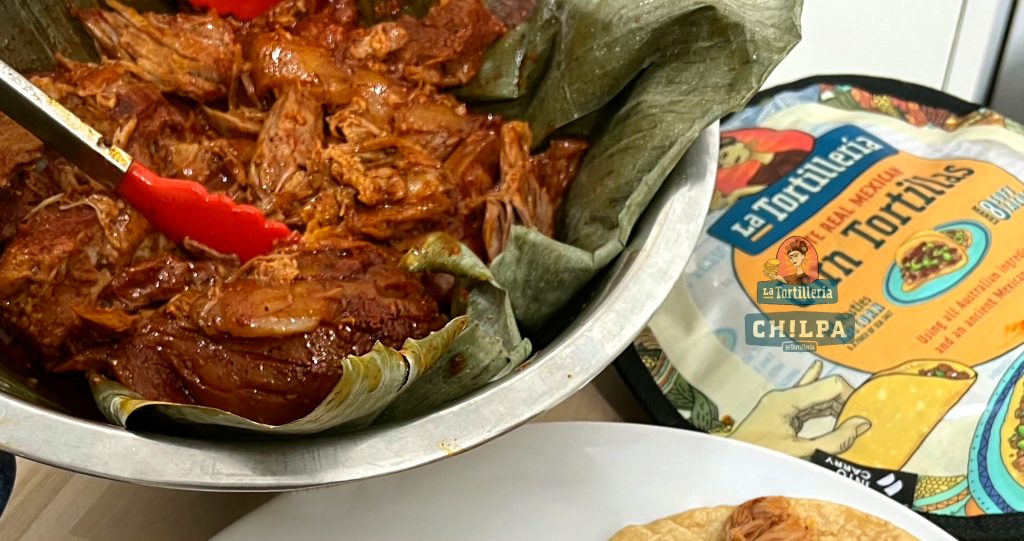 This delightful specialty hails from the Yucatán Peninsula, where it emerged from a fusion of the native pre-Columbian culinary traditions and those brought by the Spaniards. The vibrant colours of Mexico and flavours stand out with our tantalizing Cochinita Pibil Tacos recipe. Follow along as we guide you through crafting this iconic dish, complete with the fragrant and savoury spices that embody the essence of Mexican cuisine.
COOKING TIME
Overnight + 3hrs
Ingredients
1 tbsp whole black pepper

1 tbsp cumin seeds

3 aromatic clove

1 tbsp coriander seeds

1½ tbsp oregano

1 tbsp rock salt

1 pinch cinnamon powder

6 garlic cloves

75 ml lime juice

100 ml orange juice

0.100 kg achiote paste

1.5 kg pork shoulder skin on

0.017 kg table salt

0.004 kg grounded pepper

1 banana leaf

80 ml orange juice

1 kg tortillas from "La Tortillería"
Xnipec Salsa
½ red onion

1 habanero chilli

1 tbsp rock salt

½ tbsp oregano

60 ml orange juice

45 ml lime juice
Cooking Instructions
Ingredients for the Marinade:
1 tsp black pepper
1 tsp cumin seeds
3 aromatic cloves
1 tsp coriander seeds
1½ tbsp oregano
1 tbsp rock salt
1 tsp cinnamon powder
4 garlic cloves
75 ml lime juice
100 ml orange juice
2 tbsp achiote paste
Instructions for Cochinita Marinade:
In a blender, combine black pepper, cumin seeds, aromatic cloves, coriander seeds, oregano, rock salt, cinnamon powder, garlic cloves, lime juice, orange juice, and achiote paste.
Blend until all ingredients are thoroughly mixed and the mixture is smooth.
Ingredients for Preparing the Meat:
1 kg pork shoulder, cut into 400g portions
Salt and pepper to taste
Banana leaves (soaked in hot water)
Instructions for Preparing the Meat:
Season the pork shoulder portions with salt and pepper.
Soak banana leaves in hot water to soften and make them more pliable
Method: 
Line a cooking pot with aluminum foil and place the soaked banana leaves inside.
Put the seasoned pork inside the banana leaves and pour the prepared Cochinita Marinade over it. Mix well and add more orange juice if desired.
Fold the banana leaves over the meat, ensuring it's well-covered and wrap everything tightly with aluminium foil.
Refrigerate for a minimum of 4 hours, or for even better flavour, we suggest to marinate overnight.
Preheat your oven to 180 degrees Celsius (350 degrees Fahrenheit).
Cook the marinated pork in the preheated oven for 3 hours, or until the meat is tender and easy to pull apart.
Instructions for Xnipec Salsa:
In a mixing bowl, combine the thinly sliced red onion and finely chopped habanero chillies.
Mix the ingredients thoroughly.
Refrigerate for at least 2 hours if possible to allow the flavours to sing!
To Serve: 
When you're ready to enjoy your Cochinita Pibil Tacos:
Place a portion of the cooked marinated pork on a soft corn tortilla.
Top it with a generous spoonful of the Xnipec Salsa.
Roll up the tortilla and enjoy the best tacos from the Yucatan Peninsula made by you!
Now you have an iconic Cochinita Pibil Tacos recipe that captures the essence of Mexican cuisine. Impress your guests and enjoy a Sunday roast made with Mexican pride!
¡Buen Provecho!
We are makers of award-winning traditional corn tortillas and tortilla chips, sold Australia-wide
Where to Buy
Want more Mexican? Get recipes, tips and news straight to your inbox!
You may also like: