Gerardo's Guacamole
A family favourite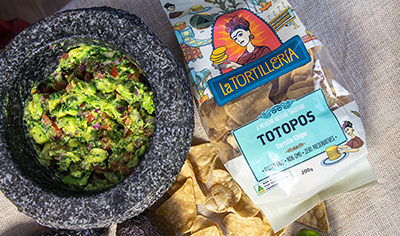 Guacamole is a true Aztec food, containing both avocados and tomatoes which both originated in what is now Mexico. The word Guacamole comes from two Nahuatl (Aztec language) words meaning avocado, and 'mole' which means sauce, or literally 'things smashed together into a sauce'. Here we share our family recipe According to pre-Hispanic mythology, Quetzalcoatl, a Mexican god, gave the guacamole recipe to the Toltecs, and then it spread throughout Mesoamerica. Mexico is the world's biggest producer of Avocados, with the Mexican state of Michoacan being the leader. But here is an interesting fact: Mexicans are also the world's largest avocado consumers. On average, each person will eat 7 kilos each year! Avocados and guacamole are an important part of the Mexican gastronomy, where it is used as a topping on many dishes. It goes perfectly with tacos, meat, or as a dip which you scoop out with totopos (tortilla chips). Try to make your guacamole just before you are going to serve it. If you need to prepare it in advance, cover the bowl and leave it in the fridge. Guacamole should be served either cold or at room temperature. If it gets too warm it can start to get a mushy texture, and it will oxidise faster, which gives it that brownish shade. It is important to use lime juice in the recipe, as it helps keep that beautiful green colour for a longer time.
Ingredients
200g Totopos from La Tortilleria

2 avocados

2 tomatoes

1 small onion

1 jalapeño

1/2 cup coriander

Juice of half a lime

Salt
Cooking Instructions
Dice tomatoes, onion and jalapeño, then finely chop the coriander.
Put the onion in your bowl first and cover with the lime juice to soften the harsh flavour of the raw onion
Add the rest of your ingredients and mash together in a bowl with a fork. Season to taste with salt.
Serve with La Tortilleria totopos (tortilla chips).
We are makers of award-winning traditional corn tortillas and tortilla chips, sold Australia-wide
Where to Buy
Want more Mexican? Get recipes, tips and news straight to your inbox!
You may also like: