Tacos De Carne Asada
Grilled Beef Tacos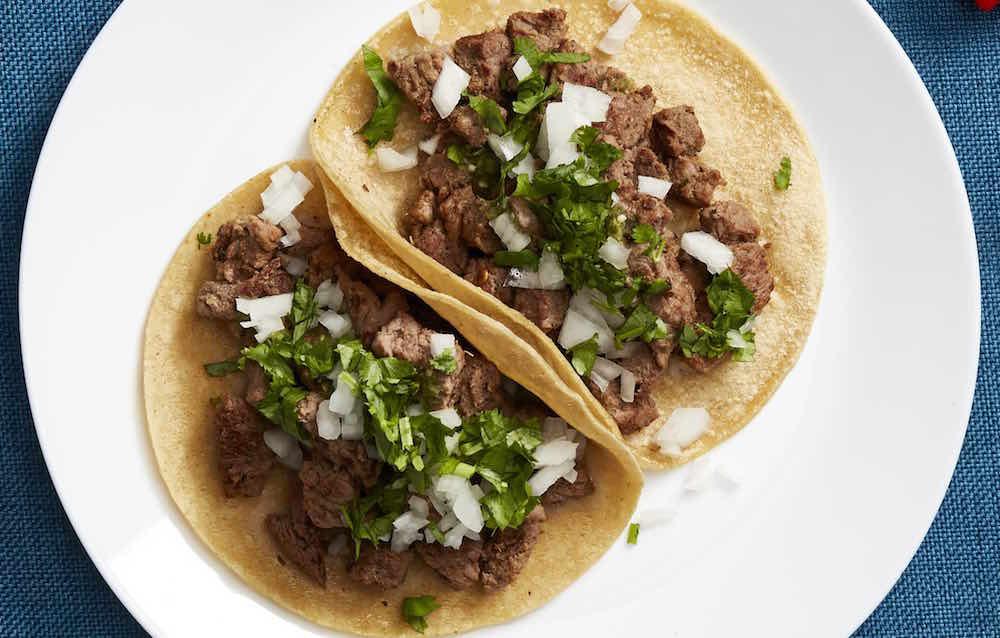 'Carne asada' is for Mexicans what a BBQ is for Aussies. If your amigo invites you around to a 'carne asada', expect a Mexican feast of a variety of grilled meats, chorizos, nopales (cactus), salsas and condiments, all served with corn tortillas. The marinade for preparing the grilled beef varies from family to family, each with their own twist that makes the recipe unique, home to home. This is our family recipe and we hope you'll love it.
Ingredients
8 La Tortilleria corn tortillas

800g thin-cut beef skirt steak

1 tsp thyme (dried or fresh)

1 tsp oregano (dried or fresh)

½ cup fresh coriander

1 jalapeño

1 garlic clove

1 lime, juiced

100ml pineapple juice

200ml vegetable oil

½ white onion, finely diced, to serve

½ bunch fresh coriander, chopped, to serve
Cooking Instructions
Prepare the marinade by combining the oregano, coriander, thyme, jalapeño, garlic, lime, pineapple juice and vegetable oil in a blender.
Place the beef in a bowl and cover with the marinade, ensuring it is well coated. Place in the fridge for a minimum of two hours (or ideally overnight).
Preheat your BBQ (or hot pan) to a high heat then cook the beef to your liking. Take the beef off the heat and let rest for 2 minutes. Once rested, dice into small pieces.
At the same time, heat your tortillas on a very hot dry frying pan until soft and floppy, about 10 seconds either side.  Wrap them in a thick cloth or aluminium foil as you go to keep them warm.
To serve, place cooked beef on a tortilla and garnish with coriander and onion.  Enjoy with your favourite salsa.
Tip: if you're in a hurry and don't have time to marinate the beef for so long, replace the pineapple juice with vinegar and marinate for 30 minutes only
¡Buen Provecho!
We are makers of award-winning traditional corn tortillas and tortilla chips, sold Australia-wide
Where to Buy
Want more Mexican? Get recipes, tips and news straight to your inbox!
You may also like: