Tacos De Pescado
Grilled Fish Tacos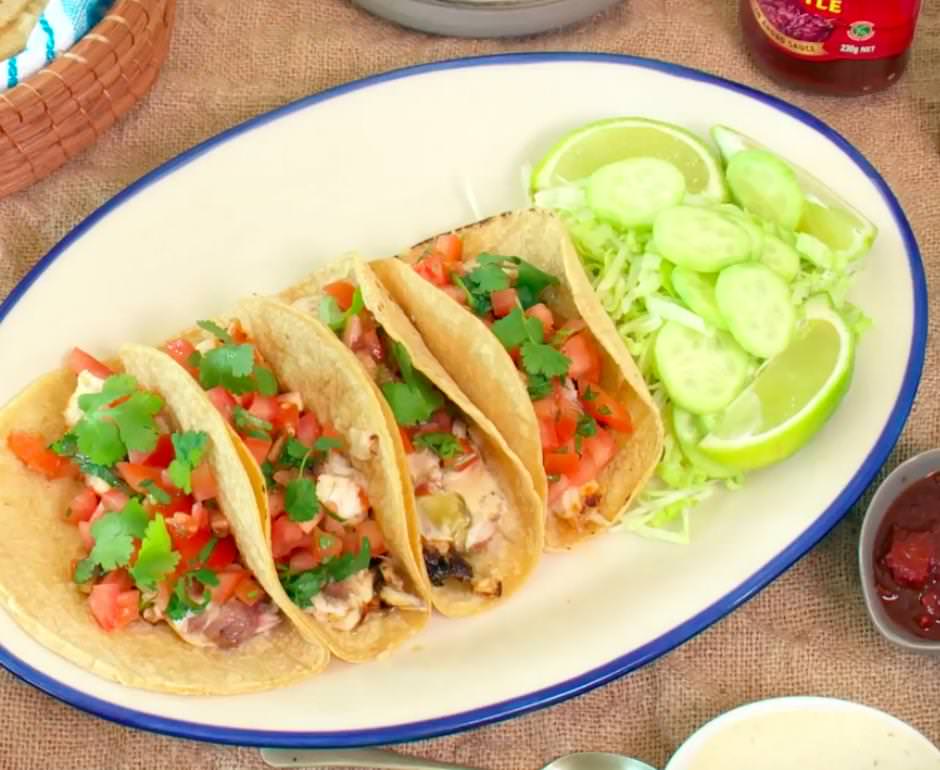 This grilled fish taco recipe is perfect for the summer BBQ. Top it off with a creamy chpotle salsa, and fresh chopped salad and it's soon to be a family favourite. Remember to leave enough time for marinating! People have been eating fish tacos in Mexico for many years, mostly in the coastal areas. They are a traditional dish in Baja California, a Mexican state that borders the US state of California. Often the fish is battered and fried, however the recipe we're making here the fish is marinated and then grilled for a healthier option, similar to the fish taco style they make in Mexico City. You can use any flaky white fish that you can get for this recipe; barramundi, snapper and blue eye work really well. It's common in Australia, the US and other countries to find toppings like cabbage or lettuce on your taco. It is valid, but in Mexico this is usually meant to be a salad on the side and not a part of the actual taco! As with most Mexican dishes, fish tacos are best enjoyed with good company and a cold beer. Make sure to have lots of serviettes available because this taco tends to get messy!
Ingredients
1 kilo of Blue Eye fish fillets, skin on (snapper or barramundi work well too)

15 La Tortilleria corn tortillas

3 tomatoes

1 bunch of coriander

¼ of olive oil

½ iceberg lettuce, finely chopped

1 cucumber, sliced

Lime, for garnish

Salt and pepper, to taste

1 tsp of cumin

1 tsp of fish seasoning

Salt and pepper, to taste

½ cup of olive oil

2 tbsp of honey

2 garlic cloves, chopped

1 tsp chile powder (morita works well)
Chipotle Salsa Ingredients
1 cup thickened cream

1 tbsp of chipotles

2 tbsp of white vinegar

Juice of 1 lime

1 tsp of cumin

1 tsp of fish seasoning

Salt and pepper, to taste
Cooking Instructions
Mix all the ingredients for the marinade together and cover the fish completely.  Place the fish properly covered in the fridge for about 4 hours.
To make your salsa: mix all the salsa ingredients together. If you're using whole chipotles, finely chop them first before mixing. Place your salsa in the fridge covered to cool.
Finely dice the tomatoes and chop the coriander.  Mix them together with the olive oil and add salt and pepper to taste.
Place the fish on a grill or frying pan skin down first.  After 5 minutes, flip the fillets, remove the skin, and cook for another 5 minutes.  Flip the fish one last time and cook until it flakes.
Whilst the fish is cooking, heat the tortillas on a hot dry frypan until hot, soft, and floppy. Then place them in a tortilla warmer or tea towel to keep warm and soft.
Place tortillas on a plate, add the fish flakes, and top with tomato & coriander mix.  Drizzle your salsa over the top.  Serve with lettuce and cucumber salad on the side, and a wedge of lime.
We are makers of award-winning traditional corn tortillas and tortilla chips, sold Australia-wide
Where to Buy
Want more Mexican? Get recipes, tips and news straight to your inbox!
You may also like: