Guacamole with Pomegranate
Guacamole with Pomegranate
Guacamole with a twist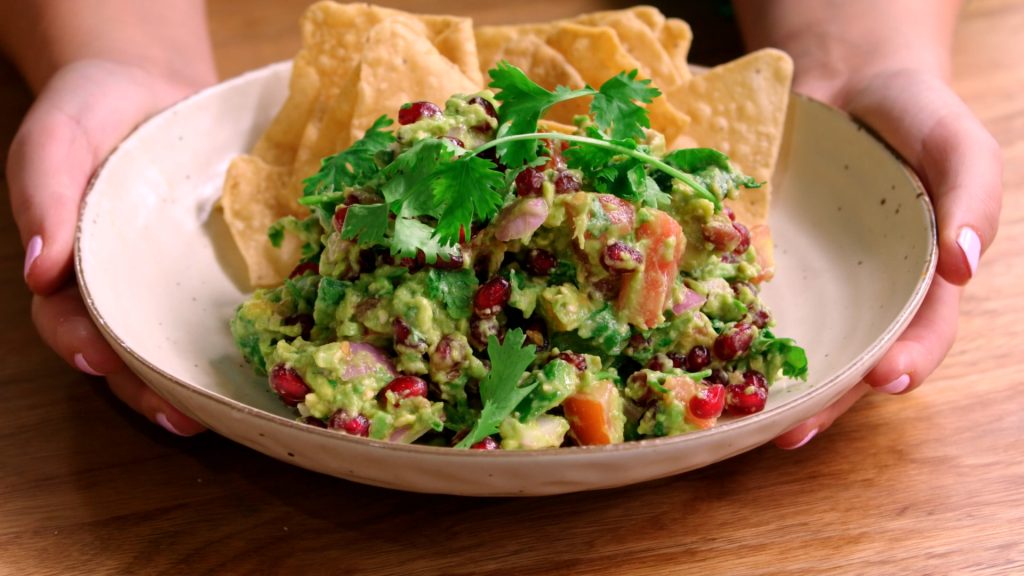 Guacamole with a twist? Check out this amazing recipe featuring our La Tortilleria co-founder Gerardo Lopez & the talented Laura Sharrad on Season 8, Episode 22 of My Market Kitchen! Learn from the pros & discover the magic of adding pomegranate to your Guacamole. It's the perfect blend of creamy avocado goodness and bursts of juicy pomegranate seeds!
Ingredients
3 avocados

1 tomato

½ red onion

¼ bunch of coriander

2 fresh green chili serrano or jalapeño, sliced

1 lime juiced

Seeds from 1 pomegranate

Salt to taste

La Tortillleria tortilla chips - white or blue
Cooking Instructions
Finely dice the onion & place it in the bowl with the lime juice. This will cure the onion & remove some of its bitterness.
Finely dice the tomato & chilies. Chop the coriander finely & combine all the ingredients in the bowl with the onion & lime.
Add the avocado, pomegranate seeds & salt to taste. Mix all the ingredients together.
The easiest healthy snack that uses fresh ingredients and easy for everyone to prepare a classic Mexican dip.
Buen Provecho!
We are makers of award-winning traditional corn tortillas and tortilla chips, sold Australia-wide
Where to Buy
Want more Mexican? Get recipes, tips and news straight to your inbox!
You may also like:
The Nixtamal Process
Learn about Nixtamal, the ancient process we use to make healthy and stronger tortillas.
Read more