Huevos Divorciados
Eggs and salsa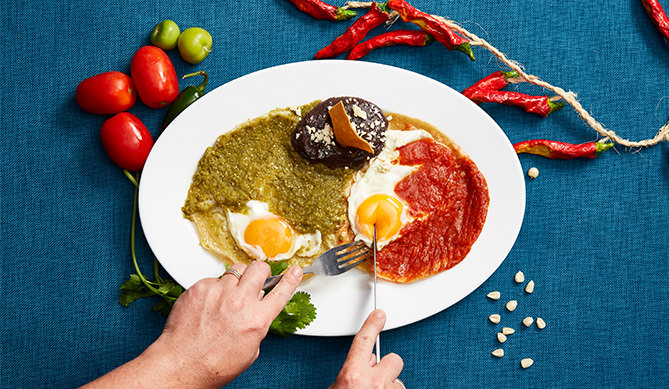 The sauces are placed separately and don't mix, much like a divorced couple, hence the name 'divorced eggs'. Although as you begin to eat the dish, the salsas naturally fuse together and create a delicious loving ending.
Ingredients
8 La Tortilleria corn tortillas

Cooking oil

8 free-range eggs

500g tomatillos, either fresh or canned

¼ onion

1 garlic clove

½ bunch of coriander

2 jalapeños, depending on the desired heat

Salt to taste

500g tomatoes, quartered

1 onion, quartered

3 garlic cloves

1 jalapeño

Salt to taste
Cooking Instructions
To make the green salsa, peel and washed the tomatillos thoroughly by rubbing them (or if using canned, drain off the juices and rinse thoroughly).  Blend the tomatillos, onion, garlic, jalapeños and coriander in a blender until smooth.  Add salt to taste. Pour into a saucepan and boil for 2-4 minutes.
To make the red salsa, place the tomatoes, onion, garlic and jalapeño on a hot grill or frying pan with no oil.  Turn often and continue cooking until skins has blackened on all sides. Remove once done. Put them in a blender and blend until smooth. Season to taste.
Heat oil in a frying pan. Place the tortillas one-by-one in the oil for 8 seconds, flip and repeat. Add extra oil as needed.  Drain the tortillas on a paper towel, then place two side-by-side per serving plate.
Fry the eggs and place one fried eggs on top of each tortilla.
Pour the red salsa over one egg, and the green salsa over the other.
Serve with a side of frijoles refritos and totopos.
¡Buen Provecho!
We are makers of award-winning traditional corn tortillas and tortilla chips, sold Australia-wide
Where to Buy
Want more Mexican? Get recipes, tips and news straight to your inbox!
You may also like: