Huevos Rancheros
Fried Eggs & Salsa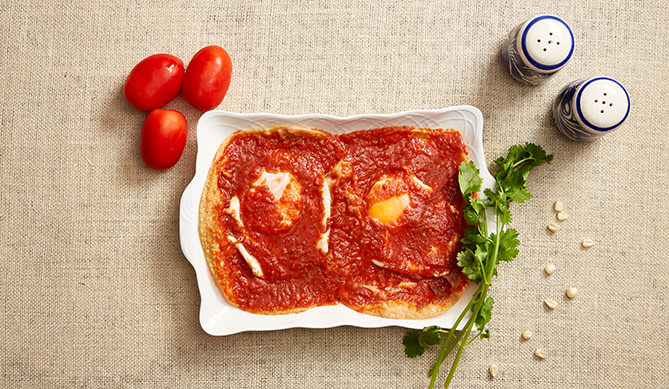 Huevos Rancheros literally means 'Cowboy Eggs', however there is no concrete explanation as to how the name came about. What we do know is that it is delicious and easy to make (and enjoy!).
Ingredients
8 La Tortilleria corn tortillas

8 free-range eggs

300g frijoles refritos (see recipe)

500g (about 5-6) tomatoes

1 onion, quartered

3 garlic cloves

1 jalapeño

Cooking oil
Cooking Instructions
Place the tomatoes, onion, garlic and jalapeño on a hot grill or frying pan (no oil needed). Cook until skins are blackened on all sides. Remove from the pan and place in a blender. Combine until smooth.
Heat oil in a frying pan. Place the tortillas one-by-one in the oil for 8 seconds, flip and repeat. Add extra oil as needed. Drain the tortillas on a paper towel, then place two side-by-side per serving plate. Top with a layer of the refried beans.
Fry the eggs to taste and place one fried egg on top of each tortilla.
Pour the red salsa over each egg. If desired, serve with sliced avocado and crumbed ricotta.
¡Buen Provecho!
We are makers of award-winning traditional corn tortillas and tortilla chips, sold Australia-wide
Where to Buy
Want more Mexican? Get recipes, tips and news straight to your inbox!
You may also like: