Pastel Azteca
Mexican Lasagne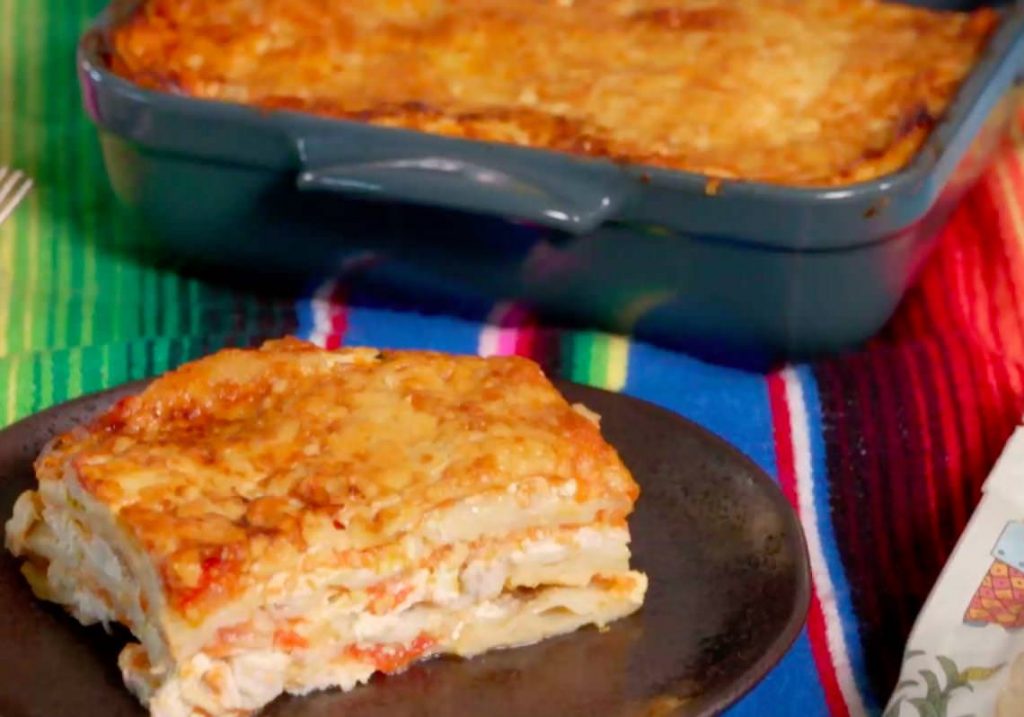 This dish is Mexico's version of lasagna, known as 'Pastel Azteca' or Aztec Tart. Instead of pasta sheets, you use tortillas to separate each layer. It is a meal that is eaten as prepared. No lettuce, no coleslaw, no toppings or extras. All it needs is a bit of habanero sauce to give it an extra punch of flavour. For a vegetarian version, replace the chicken with diced fried potatoes or fake chicken strips.
Ingredients
16 La Tortilleria tortillas

2 chicken breasts

1½ onions

2 garlic cloves

6 large chiles (e.g. poblano)

4 tomatoes

2 cups sour cream

Vegetable oil

Salt & pepper

250 g tasty or mozzarella cheese

Habanero salsa
Cooking Instructions
Place the chicken, ½ onion and one garlic clove in a saucepan. Cover with water and add salt and pepper to taste.  Let it boil at high temperature and then reduce the heat to low, cover the pot with a lid and cook until chicken is tender.  Shred the chicken.
Heat up ¼ cup of vegetable oil in a frypan at medium to high temperature. When it is hot, place the tortillas in the oil and fry for a few seconds on each side – make sure they don't crisp. Remove the excess oil by placing tortillas on paper towels.
Broil the chiles in a dry frying pan or BBQ until charred. Let them sweat in a plastic bag to loosen the skins, then remove the skin, veins and seeds.  Cut in small strips.
Slice the remaining onion. In a saucepan, heat up a tablespoon of vegetable oil and add the onion slices and chile strips.  Cook onion until translucent.
Blend the tomatoes and the remaining garlic clove with ¼ cup of water.  Add to the saucepan with the onions and chiles.
Preheat the oven to 170°C. In a baking tray, place a layer of tortillas, a layer of the saucepan mix, chicken, cream and cheese.  Build as many layers until ingredients are finished.  Make sure you finish with a layer of sauce then cheese on top.
Bake for 20 minutes. When you remove it from the oven, let it sit for 5 minutes prior to serving. Serve with Habanero salsa.
We are makers of award-winning traditional corn tortillas and tortilla chips, sold Australia-wide
Where to Buy
Want more Mexican? Get recipes, tips and news straight to your inbox!
You may also like: