Morita Salsa
A smoky salsa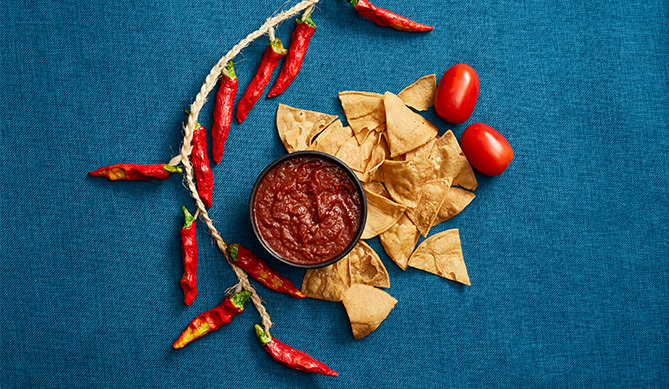 Morita is a more rare and smaller variety of jalapeño, which is smoked dry. They are quite spicy, so to reduce spice in this recipe, remove the seeds and veins of the chiles before soaking them.
Ingredients
5 dried morita chiles

3 medium tomatoes

2 dried chile de arbole

¼ onion

2 garlic cloves

1 tsp brown sugar
Cooking Instructions
Place chiles in hot water for 15 minutes to soften. Ensure they are kept under the water line by weighing them down with a bowl or saucepan. Once softened, drain and remove stems.  To reduce spiciness, remove the seeds of the morita chiles before soaking.
In the meantime, grill tomatoes, onion and garlic until black in many places.
Put all ingredients in the blender and blend until smooth. Season to taste.
We are makers of award-winning traditional corn tortillas and tortilla chips, sold Australia-wide
Where to buy
Want more Mexican? Get recipes, tips and news straight to your inbox!
You may also like:
Riding The Wave - Mexican Food in Australia
Read about the rise of Mexican food in Australia, from humble beginnings to a great great representation of the diverse cuisine.
Read more