Pico De Gallo
Fresh Salsa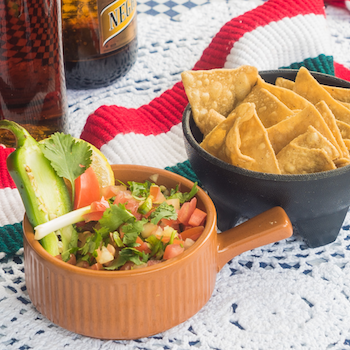 Pico de Gallo literally means 'rooster's beak'. No one really knows why it is called this, however there are a few theories. Some claim it's due to picking at the salsa with your two fingers, like a beak. Others claim it's due to the shape of the Serrano chile resembling a beak, or the sharp pain from a rooster's beak, similar to the spiciness. A delicious salsa with equal mystery.
Ingredients
1 white onion, diced

3 tomatoes, diced

½ bunch coriander

1 serrano or ½ jalapeño chile, finely chopped (optional)

Juice of 2 limes

1 teaspoon sugar

2 teaspoon salt
Cooking Instructions
Place the diced onion in a bowl and add the salt, sugar and lime juice. Leave aside for a few minutes and allow the onions to cure.
Add the diced tomatoes, chiles and chopped coriander and mix all together.
We are makers of award-winning traditional corn tortillas and tortilla chips, sold Australia-wide
Where to Buy
Want more Mexican? Get recipes, tips and news straight to your inbox!
You may also like: