Quesadilla con Salsa de Chorizo
Quesadilla con salsa de chorizo
Three Cheese Quesadilla with Chorizo Salsa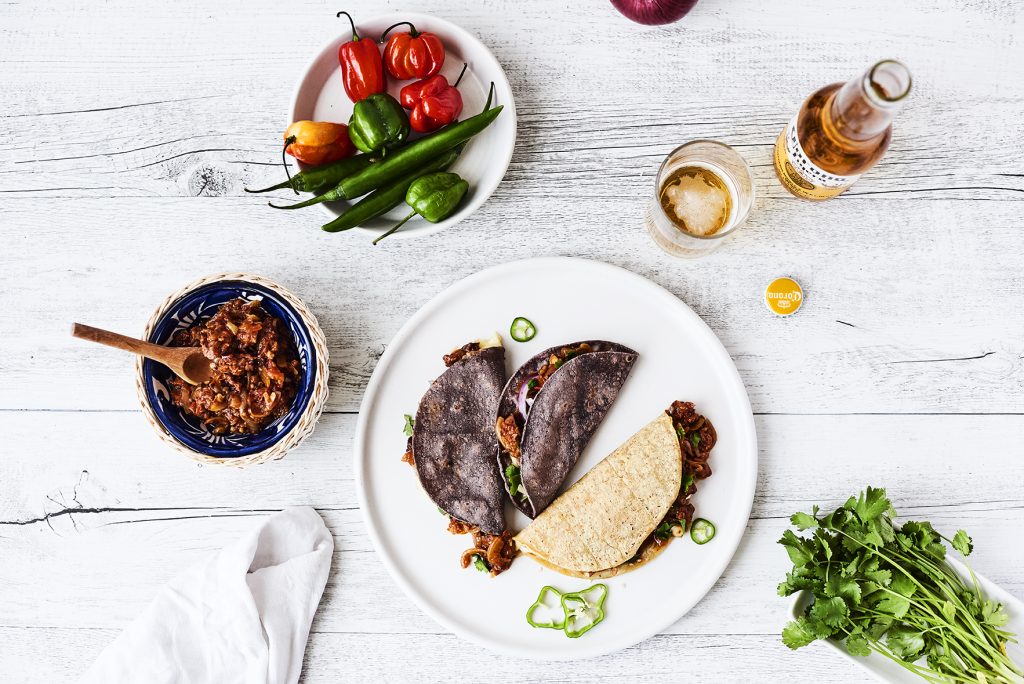 Quesadillas are a popular street food in Mexico. It's common to see makeshift stands set up on street corners with women cooking the quesadillas on a 'comal' (large circular pan) over an open fire, selling them to hungry passer-byers for about 20 pesos each. This one is a deliciously indulgent recipe, with melted cheese and flavoursome spiced chorizo salsa, all inside a traditional corn tortilla. You could serve this as a main meal, or cut the quesadillas up for easy and impressive finger food at your next fiesta!
Ingredients
12 La Tortilleria corn tortillas

150g mozzarella cheese, shredded

150g tasty cheese, shredded

150g Oaxaca cheese, shredded

¼ red onion, sliced for garnish

Chopped fresh coriander for garnish
Chorizo Salsa
300g Mexican chorizo, sliced

1 serrano or jalapeño green chilli, sliced

½ brown onion, diced

2 garlic cloves, chopped

2 roma tomatoes, diced

2 tbsp chipotle chilli in adobo, chopped

3 tbsp cooking oil

2 tbsp apple cider vinegar

Salt, to taste
Cooking Instructions
Heat oil in a frying pan. Over medium heat, fry the onion and green chilli. When the onion is translucent, add the garlic and cook for 2 minutes. Add the tomato and the chipotle, reduce heat, stirring for about 5 minutes.
In a separate frying pan, heat cooking oil over medium heat. Fry the chorizo until cooked through.
Add the chorizo to the pan with the salsa mix. Add apple cider vinegar and 50ml of water. Season to taste. Reduce heat, cover, and leave to simmer for 10 minutes.
Mix the three cheeses together.
Heat a clean, dry frying pan over medium to low heat. Place a tortilla down and top with the cheese mix, then the chorizo salsa. Once the cheese is slightly melted, sprinkle over the coriander and onion garnish, then fold the tortilla in half. Continue cooking, flipping occasionally, until fully melted.
Chorizo Tip: The Spaniards originally introduced chorizo to Mexico in the 16th century, however since then Mexican chorizo has evolved to be quite different to its distant Spanish cousin. Many uniquely Mexican flavours have been added, like guajillo, ancho and chipotle chillies, as well as spices like oregano, cumin, bay leaves, and pepper. Spanish chorizo contains a lot of paprika, whereas in the Mexican version the paprika is just a minor after taste. Mexican chorizo crumbles and is more 'mince-like' than the denser and firmer Spanish chorizo. Mexican chorizo can be found at speaciality latino grocery stores.
Cheese Tip: Oaxaca cheese is a unique fresh white cheese from the Mexican state of Oaxaca. It can be found at speciality cheese shops or Latino grocery stores, or if unavailable can be substituted with buffalo monzerrella. Make sure to drain the water the cheese is stored in or your tortilla will go soggy – try pressing the cheese balls between two plates and add some extra weight to extract the excess liquid.
Queso Oaxaca is perhaps the most well-known and quintessentially Mexican cheese, and the most sought after outside of Mexico. It is a fresh creamy-white cheese that comes wrapped up like a ball of string. It is reasonably firm, and you can peel it into thin strings. It is slightly salty, has a nice acidity tinge and melts well.
We are makers of award-winning traditional corn tortillas and tortilla chips, sold Australia-wide
Where to Buy
Want more Mexican? Get recipes, tips and news straight to your inbox!
You may also like: