Refried Beans Quesadilla with Avocado
Refried Beans Quesadilla with Avocado
Simple & delicious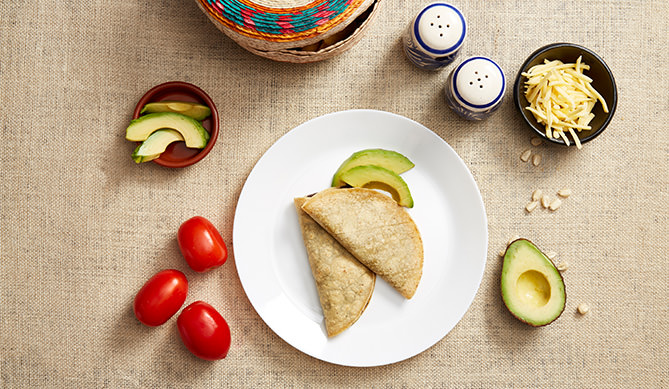 A great way of introducing your kids to authentic Mexican cuisine. (Fun fact: Avocados originated from Mexico!)
Ingredients
4 La Tortilleria corn tortillas

100g refried beans (see recipe separate or use tinned)

100g shredded mozzarella cheese

½ avocado, sliced
Cooking Instructions
Prepare your refried beans (see separate recipe).
For each quesadilla, heat one side of the tortilla for 10 seconds on a hot frying pan. Turn over, and then place a thin layer of beans, a thin layer of cheese. Once partially melted, fold the tortilla in half. Continuing cooking, turning occasionally, until melted.
Served with the avocado slices.
¡Buen Provecho!
We are makers of award-winning traditional corn tortillas and tortilla chips, sold Australia-wide
Where to Buy
Want more Mexican? Get recipes, tips and news straight to your inbox!
You may also like: