Frijoles Refritos
Refried Beans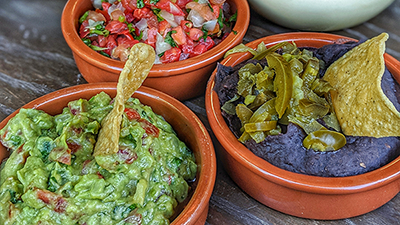 This simple recipe will take your taco game to the next level! Refried beans are a Mexican staple. They can be used as a filling for quesadillas, enchiladas, tacos and so mcuh more. For our vegetarian or vegan chefs out there this recipe can be easily added too or built on, so get creative! Some of our top tips to turn this into a delicious main are to add veggies like potato or mushroom or include your favorite herbs and spices (chipotle is a crowd favorite).
Ingredients
1 cup dried beans (black or pinto)

1/4 brown onion

1 tbsp cooking oil

Optional spices: chipotle, cumin etc

Optional topping: jalapeños, queso Oaxaca
Cooking Instructions
Frijoles De Olla:
(whole cooked beans)
1. Rinse the beans and place in a pot with enough water to cover the beans by about 8cm.
2. Add onion and oil to the pot and bring to a simmer.
3. When your beans softened a little- add the salt and continue cooking until beans are very soft but still whole and the broth has thickened.
(this can take 2-3 hours but is much quicker in a pressure cooker.)
Frijoles Refritos:
(refried beans)
1. Heat the oil in a large frying pan.
2. Add onion and fry until translucent (about one minute).
3. Add 1 cup of beans with their broth and mash them into the oil.
4. Repeat this until all of your beans have been mixed in.
5. Should you chose too: add your additional spices now.
6. Keep frying and stirring until you have a thick paste that doesn't stick to your spoon.
7. Serve with queso Oaxaca and totopos or include in your favourite dish!
Enjoy!
We are makers of award-winning traditional corn tortillas and tortilla chips, sold Australia-wide
Where to Buy
Want more Mexican? Get recipes, tips and news straight to your inbox!
You may also like: