Salsa Macha
Oil, dried chilli, nuts & seeds salsa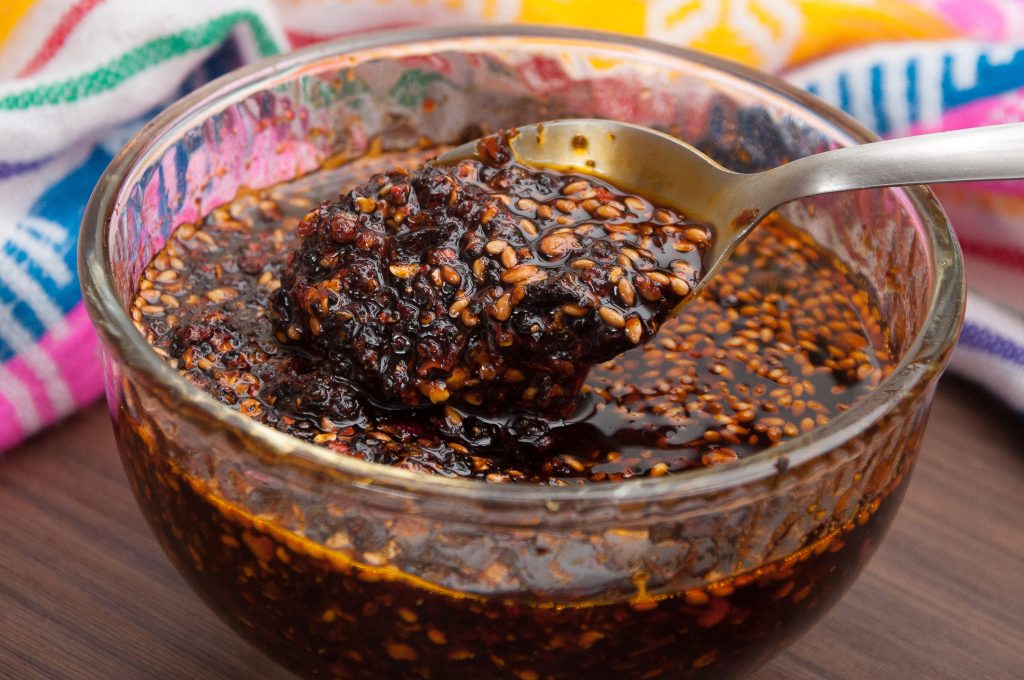 Salsa Macha is a fiery and brave condiment that hails from the heart of Mexico. Its name, "Macha," is derived from the Náhuatl word "mēchicān" which means "smoked." Also known as oil salsa, because of the amount of oil it contains, which makes it last a long time. This is our mariachi's favourite version; however, the ingredients can vary due to the region, allergens & personal tastes of the cook. Drizzle it on tacos, tostadas, or grilled meats, and watch how it transforms a simple meal into a mouthwatering adventure. It's the perfect sidekick for anyone seeking to elevate their dishes with an authentic Mexican twist.
Ingredients
4 garlic cloves

½ onion

100g arbol chillies

3 guajillo chillies

2 tbsp sesame seeds

1 tbsp cashews

1 tbsp pumpkin seeds

1 tsp white vinegar

200 ml oil

1 tbsp rock salt
Cooking Instructions
1. Heat up the oil in a pan until it's covering the surface, & then add the garlic and onion. Fry them up until they've got that lovely light brown colour.
2. Keep the same oil (we don't want to waste any of that flavour) & lightly fry the arbol & guajillo chillies. Just be careful not to let them burn – we want that smoky flavour, not a fire alarm!
3. In a hot pan, toast the sesame seeds, cashews, & pumpkin seeds, but don't mix them all together. Wait until they turn that beautiful golden colour.
4. Now, it's time to bring it all together. Blend all these ingredients with the oil we used, along with that touch of white vinegar and a sprinkle of rock salt. Blend it up until you have a smooth, delicious Salsa Macha. Use a Molcajete or Mortar & Pestle to keep things a little chunky.
¡Buen Provecho!
We are makers of award-winning traditional corn tortillas and tortilla chips, sold Australia-wide
Where to Buy
Want more Mexican? Get recipes, tips and news straight to your inbox!
You may also like: