Salsa Verde Cruda
Fresh Green Salsa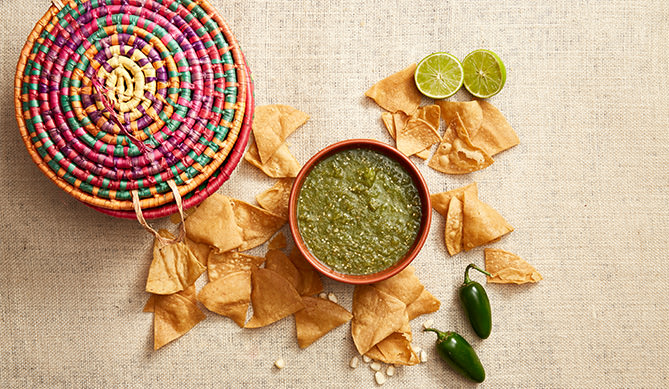 Tomatillos are small green tomatoes native to Mexico. There are several varieties and different names for them depending on the region. In Australia, you can occasionally find fresh ones in markets - usually between November to March - or you can grow your own. The easier alternative is to use canned tomatillos. This delicious salsa verde is raw version that has a strong and bitey flavour. To serve with hot dishes, such as chilaquiles and eggs, you can boil the finished salsa for 2-4 minutes for a delicious and warm addition.
Ingredients
400g of tomatillos, either fresh or canned

½ onion

2 garlic cloves

1 bunch of coriander

3 jalapeños depending on the desired heat

Salt to taste
Cooking Instructions
If using fresh tomatillos, peel and washed them thoroughly by rubbing them. If using canned, drain off the can juices and rinse thoroughly.
Blend the tomatillos, onion, garlic, jalapeños and coriander in a blender until smooth.
Add salt to taste.
We are makers of award-winning traditional corn tortillas and tortilla chips, sold Australia-wide
Where To Buy
Want more Mexican? Get recipes, tips and news straight to your inbox!
You may also like: