Tostadas De Chorizo De Soya
Tofu Chorizo Tostadas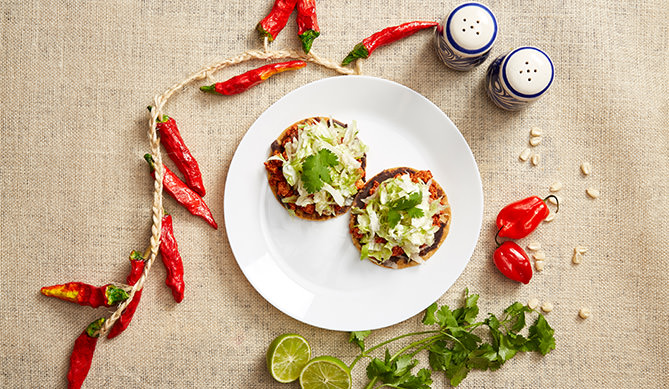 Chorizo originated in the Iberian Peninsula & was brought to Mexico by the Spanish. It has since evolved, resulting in a unique Mexican chorizo, very different from Spanish chorizo. Another great way of serving this chorizo is mixed with cubes of cooked potatoes and used as a filling for tacos, flautas & enchiladas. This recipe is a modern take on a popular dish & is perfect for dinner parties, as finger food at lunch, or a delicious weekend snack. The tofu is perfect for soaking up complex flavours & contrasts well with the crispy tostada base.
Ingredients
8 La Tortilleria corn tortillas (or use smaller La Tortilleria corn tortillas to make finger food style)

280g firm tofu

Cooking oil

100ml red wine vinegar

3 ancho chiles

2 quajillo chiles

2 garlic cloves

2 tsp dried oregano

2 tsp ground cumin

1 tbsp vegetable stock

1 whole clove

1/3 of an iceberg lettuce, shredded

200g refried beans (see our other recipes or use tinned beans)

1/2 avocado, to serve

100ml vegan sour cream, to serve
Cooking Instructions
Place the chiles in a saucepan and submerge with hot water. Ensure the chiles remain below the waterline by weighing them down with a bowl or another saucepan.  Simmer on very low heat for around 15 minutes until chiles soften. Remove from the liquid.
Prepare the marinade ingredients by combining the red wine vinegar, ancho chiles, quajillo chiles, garlic, oregano, cumin, vegetable stock and cloves in a blender until smooth.
Pulse the tofu very lightly in the blender to make small chunks about 2mm squared.  Alternatively crumb the tofu using your hands.
Heat cooking oil in a frying pan.  Stir fry the minced tofu for 3 minutes then slowly add the marinade to the frying pan, then cook for another 3 minutes. Turn off heat.
To prepare tortillas, heat cooking oil in a frying pan, enough to cover 1cm from the bottom.
Place each tortilla one-by-one into the oil and fry until crispy and golden, ensuring it stays submerged in the oil.  Drain on paper towel.
Place a layer of refried beans over each tortilla. Top with the soy chorizo, lettuce, avocado and vegan cream.  Top with your favourite salsa.
¡Buen Provecho!
We are makers of award-winning traditional corn tortillas and tortilla chips, sold Australia-wide
Where to Buy
Want more Mexican? Get recipes, tips and news straight to your inbox!
You may also like: