Tortilla Soup – Quick & Easy
Sopa De Tortilla
Tortilla Soup - Quick & Easy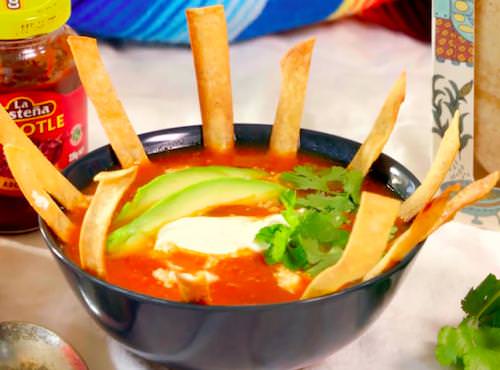 Tortilla soup is also called Aztec soup in Mexico, and was created in the Mexican state of Tlaxcala. It is a dish that is usually served as an entrée in restaurants but can easily be a hearty main course meal on the family dinner table. Tortilla soup is a wonderful way to use any leftover tortillas you might have, or any that have been accidentally left to dry out on the bench. Mexican cooks don't like to waste their tortillas and have found many delicious and creative ways to use any that would otherwise go to waste, tortilla soup being a perfect example. I've seen all sort of extras added to this soup. Some people like to add celery, or carrots, but this recipe is the traditional way of preparing it. One thing I just love about this soup is that you serve it with all the toppings at the side, so everyone can have fun and add what they like to customise it to their taste. This recipe is super simple and can be made using ingredients from your local grocery store. We also have another version here that uses dried pasilla chiles and dried epazote, which can be a bit harder to find, but worth the search.
Ingredients
10 La Tortilleria tortillas

1 white onion

1 garlic clove

Vegetable oil

7 tomatoes

600 ml chicken stock

2 avocados

100 ml sour cream

Small bunch of coriander

200 g ricotta cheese

1 tbsp chipotles

Salt & pepper, to season
Cooking Instructions
Prepare your tortilla strips by cutting each into thin 1 cm strips and place them into the oven at 180°C for 10 minutes.
Blend the tomatoes, onion, garlic, chicken stock, and 1 tablespoon of chipotle chillies until very smooth.
Pour the mixture into a saucepan bring to the boil for 5 minutes and season to taste.
Heat a 3 mm layer of cooking oil in a frying pan (enough to cover the base of the pan). Fry your tortilla strips until slightly golden and crunchy.
Serve the soup in a bowl with the tortilla strips placed on top and a dollop of sour cream in the middle. On a separate plate, arrange the condiments including the avocado slices, coriander, and crumbed cheese. Bring the chipotles to the table for people to add to their soup if they would like more spice.
We are makers of award-winning traditional corn tortillas and tortilla chips, sold Australia-wide
Where to Buy
Want more Mexican? Get recipes, tips and news straight to your inbox!
You may also like: