Sopa De Tortillas
Tortilla Soup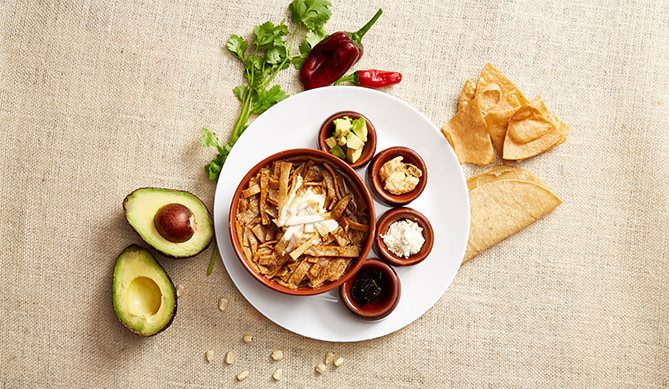 Tortilla Soup is a very special dish in Mexico. It is common to eat it at restaurants, as each chef has a unique and often deliciously elaborate way of preparing and presenting the dish. It is very easy to prepare at home and put your own creative flair into it. This is winter-warming soul food at its finest.
Ingredients
8 La Tortilleria corn tortillas

Cooking oil

4 pasilla dried chiles

5 tomatoes

½ onion

3 garlic clove

2 cups chicken stock

1 tsp dried epazote (can be substituted with dried oregano)

Salt, to taste

Avocado, sliced, to serve

50g pork crackling (chicharron), to serve

2 tbsp sour cream, to serve

70g firm ricotta, crumbed, to serve
Cooking Instructions
Tip: This recipes is great way to use up any left over tortillas that have dried out.  Fresh tortillas can also be used.
Prepare your tortilla strips by cutting each tortilla into 1cm strips and around 5cm long. Spread the strips out on an oven tray and place in a low heat oven until slightly dried out, but not hard, about 10 minutes at 150oC.
Wearing a pair of gloves, cut the pasilla chiles lengthwise and remove the seeds, veins and stems.
Setting one aside, place 3 of the chiles in hot water for 15 minutes or until soft. Weigh down the chiles with a bowl or saucepan to ensure they are fully submerged in the water.
Cut the remaining chile into 1cm strips. Heat a thin layer of cooking oil in a frying pan (enough to cover the base of the pan). Add the pasilla strips and fry for only 5 seconds, just long enough to crisp them.  Set aside on paper towel.
Remove your tortilla strips from the oven and using the same hot oil in the frying pan, fry your tortilla strips until slightly golden and crunchy. Set aside on paper towel.
Remove your soften pasilla chiles from the hot water, and place in the blender with tomatoes, onion and garlic and blend until very smooth.  Add the stock and re-blend.
Once smooth, pass the mixture through a fine colander to remove the chile skins and any lumps in the mix.
Pour the mixture into a saucepan bring to the boil for 5 minutes. At this point, add the epazote (or oregano) and season to taste.
Place a large handful of tortilla strips in each serving bowl and pour the tortilla soup on top. Add a dollop of sour cream in the middle.  On a separate plate, arrange the condiments including the avocado slices, fried pasillas, pork crackling and crumbed ricotta.  To eat, place the condiments into the soup as you desire.
¡Buen Provecho!
We are makers of award-winning traditional corn tortillas and tortilla chips, sold Australia-wide
Where to Buy
Want more Mexican? Get recipes, tips and news straight to your inbox!
You may also like:
Mexican Cheese Substitutes
Learn what cheeses you can use in Australia as a substitute for Mexican cheese.