Zucchini, Sweet Potato & Goats Cheese Tacos
Zucchini, Sweet Potato & Goats Cheese Tacos
Tacos De Calabaza, Camote Y Queso De Cabra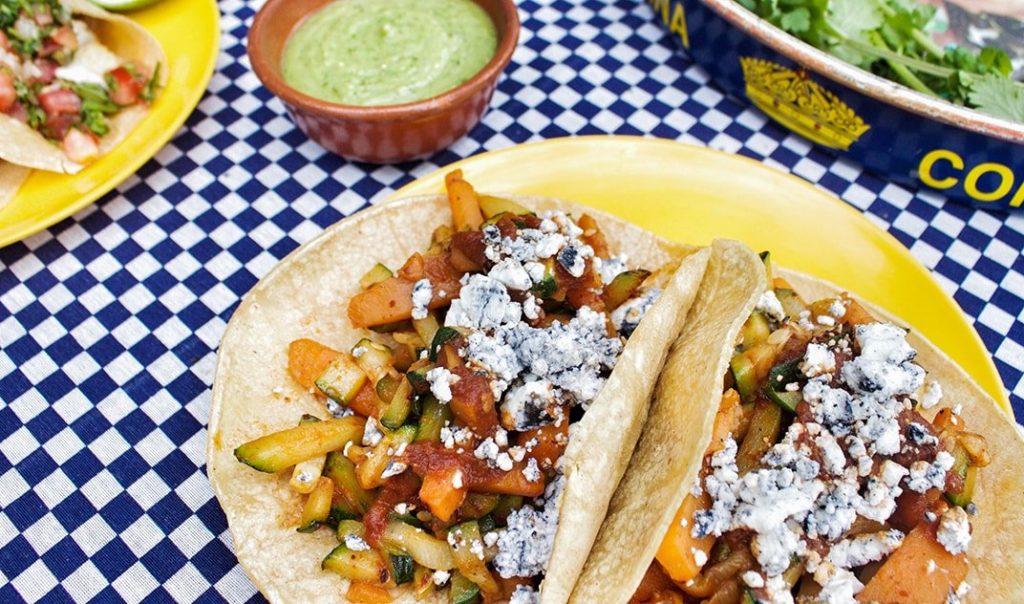 A winning combination of vegies and cheese in these tacos. The size of your vegetable cubes is important for easy eating so take your time on getting these right. Try these tacos with different salsas too - find your perfect combination.
Ingredients
6 La Tortilleria Corn Tortillas

1 medium size sweet potato, peeled and diced into 1cm cubes

2 zucchinis, diced into 1cm cubes

150g goats cheese with ash, cubed

2 teaspoons of vegetable oil

2 teaspoons ancho chilli powder

Salt
Cooking Instructions
In a saucepan, boil the sweet potato cubes until soft, around 5 to 10 minutes.
Heat the oil in a frying pan on medium heat. Fry the zucchinis cubes until they are semi soft, around 6 minutes.
Add the cooked sweet potato to the pan with the zucchinis. Toss for a couple of minutes. Add the chilli powder and salt to taste.
Remove the pan from the heat and mix in the goats cheese.
Heat your tortillas on a hot frying pan until hot and floppy and steam rises, about 10 seconds either side.
Place the filling on each tortilla to serve.
¡Buen provecho!
We are makers of award-winning traditional corn tortillas and tortilla chips, sold Australia-wide
Where to Buy
Want more Mexican? Get recipes, tips and news straight to your inbox!
You may also like: