'La Catrina', is the iconic skeleton lady seen all over México, especially around this time of year before Day of the Dead.
She is just one of the many ways we Mexicans pay homage to the dead, in the typically Mexican style of blending respect with humour. But there's more to her story than that…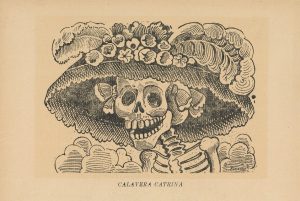 According to legend, her roots came from Aztec Goddess of Death Mictēcacihuātl. However, it wasn't until about 1910 that the image of her as a skeleton wearing elaborate hats and fancy jewellery appeared. This was the creation of satirical cartoonist José Guadalupe Posada, whose aim was to evoke the notion of death as the great equaliser – doesn't matter if you're rich or poor, we all end up dead in the end. This had a great impact at the time, as this was the early days of the Mexican Revolution and social class upheaval.
Then in 1947, Diego Rivera (that's Frida Kahlo's artist husband) painted La Catrina into his famous mural of Mexican history in central Mexico City.
Since then she has become an iconic part of Mexican identity, and a light-hearted reminder to all of us to enjoy life …because it's not forever!
We are makers of award-winning traditional corn tortillas and tortilla chips, sold Australia-wide
Where To Buy
Want more Mexican? Get recipes, tips and news straight to your inbox!
You may also like: