Mexican Independence Day – How To Host Your Own Party
Mexican Independence Day - How To Host Your Own Party
Articles
¡Viva México! ¡Viva México! ¡Viva México!
Mexican Independence Day, 16th September, is a time of huge celebrations in Mexico. It marks the occasion when Catholic priest Miguel Hidalgo y Costilla rang the bell of his church in the small town of Dolores, Guanjuato and implored his people to fight for independence from Spain. This 'Grito de Dolores' ('Cry of Dolores') was September 15th 1810, and although it was almost 11 years later that Mexico finally gained independence on August 24th 1821, the occasion is still marked every year all over Mexico.
And how is it marked? By doing what Mexicans do best: partying! The celebrations last all month, as people decorate their houses in the national colours: green, white and red, and put flags up everywhere: on their cars, in offices, on bikes and in a range of other creative locations!
The main celebrations kick off the night before the 16th as friends and family gather either in their homes or in public plazas. There's a lot of dancing involved, mariachi music, lots of food, patriotism, fireworks, whistles and horns, confetti throwing, some tequila, and overall a huge amount of merriment.
In Mexico City, the president emerges on the balcony of the National Palace at about 11pm to reenact Hidalgo's cry and ring the same bell Hidalgo did over 200 years ago (yep, they moved the bell from Dolores to the big city!). Masses of people gather in the Zocalo below and repeat 'Viva!' after each of the president's lines, and at the end the crowd erupts into a huge ¡Viva México! ¡Viva México! ¡Viva México! Then there's lots of flag waving and the festivities continue into the night. 
The next day, on the 16th September, a lot of people are quite hung-over. But it's worth dragging yourself out of bed because there are incredible parades, marching bands and dances in every town and city across Mexico, as everyone enjoys their public holiday.
PLANNING YOUR OWN MEXICAN INDEPENDENCE DAY FIESTA
So how do you plan your own Mexican Independence Day party? There are four key elements: (1) amazing food, (2) lots of flags, and red white and green decorations, (3) tequila, and (4) a whole bunch of your favourite amigos who cry out "Viva Mexico" and "Viva la Independencia" constantly throughout the night.
And what do Mexicans eat and drink on Independence Day? Below we've outlined the most popular and typical dishes and drinks you will see, but of course all the usual favourites like tacos, quesadillas, elotes, gorditas, garnachas, enchiladas, sopes, huaraches, buñuelos etc etc are also out in plenty.   The Independence Day menu is all about the national colours Green White Red…and damn tasty food.
Top 10 Dishes and Drinks to have on Mexican Independence Day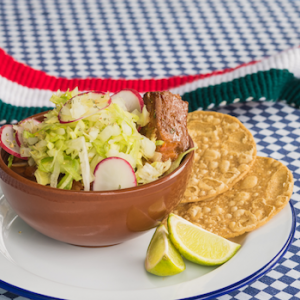 1. POZOLE
Pozole is one of Mexico's most beloved traditional dishes. This stew, made with hominy corn and pork in a tasty broth, dates back to pre-Hispanic times* and had ritual significance for the Aztec people. Its indigenous roots and ceremonial uses make it very fitting for its status as Mexico's most popular Independence Day food offering. Families cook up a large pot of pozole to share as part of their celebrations. Coincidentally there are three main types of pozole (but many thousands of recipes within those types): green pozole, white pozole, and red pozole. Sound familiar? The perfect Mexican flag-representing dish!
* you may be thinking, "hey, pork isn't pre-Hispanic!" True. It's believed pozole was originally made with human flesh from those unlucky souls sacrificed to the Aztec gods. When the Spaniards came they 'suggested' that pork would be the better option. We concur.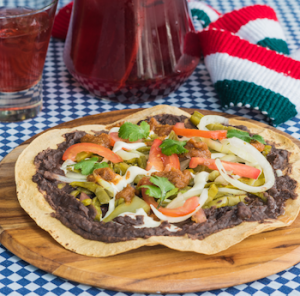 2. TLAYUDAS
The tlayuda is from the state of Oaxaca and is like a large Mexican pizza. Its base is a thin crispy corn tortilla, smothered in refried beans and then covered in a range of different toppings. It's in the toppings that you can get your Independence Day creativity on, using ingredients that are the colours of the Mexican flag. Our favourites: nopales (cactus) for the green, Oaxaca cheese for the white, and salsa roja for the red. ¡Que Rico!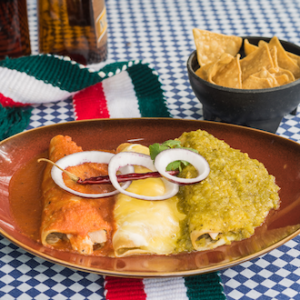 3. ENCHILADAS TRICOLOR
Everybody loves enchiladas, but they're even better when you get the two main types – enchiladas verdes and enchiladas rojas – together on the same plate! Add that together with an enchilada topped with a Oaxacan cheese and crema mix in the middle and you get the colours of the Mexican flag: green white and red.   We've filled ours with shredded oven-baked chicken, but there's a huge range of delicious fillings that can be used. Overall a very patriotic dish.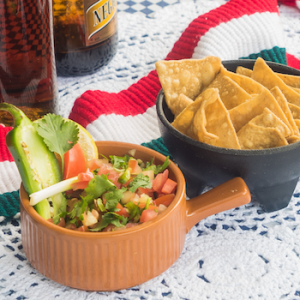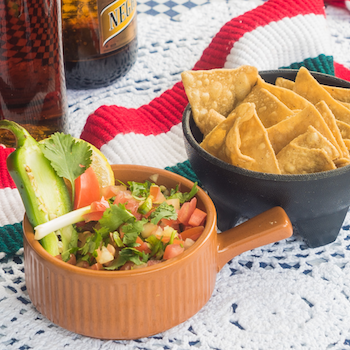 4. SALSA MEXICANA (AKA PICO DE GALLO)
Mexico's most recognizable salsa contains all the three flag colours: red tomatoes, white onion and green coriander. This ubiquitous salsa is as popular on Independence Day as it is on every other day of the year in Mexico. Dice the tomato and onion, chop the coriander, mix them all together and add in some finely diced chile, salt and lime juice and you're done! Serve with totopos, authentic corn tortilla chips.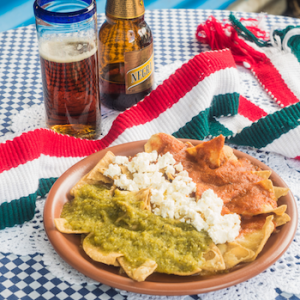 5. CHILAQUILES TRICOLOR
Chilaquiles are Mexico's version of 'nachos'…(yes, that's right, nachos are not Mexican; they originated on the US border in the 1940s). Totopos (tortilla chips), smothered in salsa and topped with queso fresco, crema and coriander and onion make the perfect Independence Day dish. In Mexico you can have your chilaquiles red (made with salsa roja) or green (made with salsa verde). But on this special day, why not do what many Mexicans do and combine the red and green on the same plate, put your queso fresco down the middle and create the Mexican flag! Triple the deliciousness.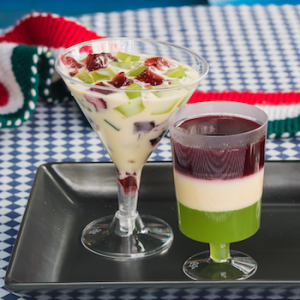 6. GELATINA TRICOLOR
Gelatina (jelly) is a very popular dessert in Mexico. But this isn't your ordinary jelly made from $1 jelly crystal packets from your local supermarket. A lot more effort goes into Mexican jelly! Common foods to make jelly out of include cajeta (caramel), condensed milk, agua de Jamaica, custard and whatever else takes your fancy! For this Mexican Independence Day gelatina we've used vanilla and condensed milk for the white, agua de Jamaica (hibiscus flower) for the red, and fresh lime juice for the green. 'Mosaico' (mosaic) style jelly is hugely popular on Independence Day. Simple make and set your red and green jelly first, then cut it into cubes and put the cubes in the white jelly liquid to set. ¡Que hermoso!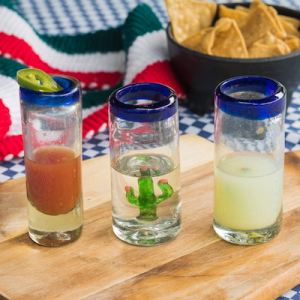 7. BANDERITA SHOTS
This quintessential 'Mexican Flag Drink' combination is very popular on Independence Day. Showing the three colours of the flag, it consists of a shot of lime juice (green), a shot of tequila blanco (white) and a shot of sangrita (red). But don't be a gringo and shot them all!! They're designed to be elegantly sipped from one to the next, savouring the flavours and cleansing the palate between each sip of tequila.
There is some contention as to what goes into a Sangrita shot, or 'Little Blood' as it translates to. The common recipe in Mexico City is a combination of tomato juice, lime juice, orange juice, Valentina salsa, Maggi sauce and/or Worcestershire sauce. A bit like a michalada recipe. It's believed however that the original sangrita recipe is made from orange juice, sour pomegranate juice (or use grenadine syrup as a substitute), and powdered red chile like ancho or piquín. Either way it's delicious, and goes great with tequila and lime.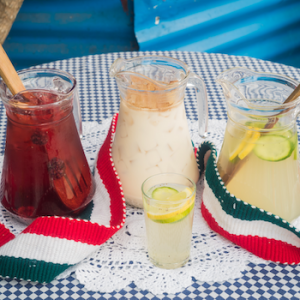 8. 9. 10. AGUA FRESCAS: JAMAICA, HORCHATA Y LIMON
These three popular Mexican drinks are equally as popular on Independence Day, especially since when lined up next to each other they make the Mexican flag colours!
Agua de Jaimaca is made by boiling hibiscus flowers in water and adding sugar, before straining and cooling the drink.
Horchata is a traditional rice milk drink, flavoured with cinnamon and vanilla.
Agua de Limon is made by blending limes with water and sugar.
Putting a jug of each on your independence day feast table will make you a very popular host. You can always mix them with tequila as well if you want a little more punch!
We are makers of award-winning traditional corn tortillas and tortilla chips, sold Australia-wide
Where To Buy
Want more Mexican? Get recipes, tips and news straight to your inbox!
You may also like:
Mexican Independence Day – How To Host Your Own Party