La Tortilleria Wins At Small Business Champion Awards
La Tortilleria Wins At Small Business Champion Awards
News & Events
We are very proud to announce that La Tortilleria won two awards at the 2017 Australian Small Business Champion Awards, held in Sydney on 1st April.
Competing against 16 other national finalists, La Tortilleria took out the 'Business Growth Award', which recognises businesses who have achieved exceptional growth whilst maintaining high standards of customer service and product innovation. La Tortilleria also won the Manufacturing Category Award.
The awards were announced before a sold-out audience of one thousand business people and special guests including Australian Small Business Minister, The Hon. Michael McCormack MP, NSW Small Business Minister, The Hon. John Barilaro MP and the Shadow Minister for Small Business, Jenny Aitchison MP.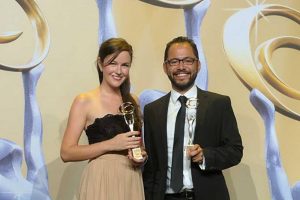 Gerardo and I were very honored to be amongst so many talented small business owners from all over Australia. It was truly inspiring to see the caliber, passion and determination of Australia's small business community on show. We enjoyed celebrating our wins with our fellow small business owners at the awards ceremony.
These wins are testimony to the incredible team that make La Tortilleria possible: our tortilla makers, salespeople, finance team, quality assurance team, warehouse staff, chefs, waiters and management team. Their passion and commitment has got us to where we are today and we are forever grateful.
Most of all we'd like to thank our customers who have supported us from the beginning and truly believe in our mission of revolutionising Mexican food in Australia. We couldn't have done it without you. ¡Muchisimas Gracias!
We are makers of award-winning traditional corn tortillas and tortilla chips, sold Australia-wide
Where To Buy
Want more Mexican? Get recipes, tips and news straight to your inbox!
You may also like:
La Tortilleria Wins At Small Business Champion Awards