Potato Flautas
Crispy fried tortillas filled with potato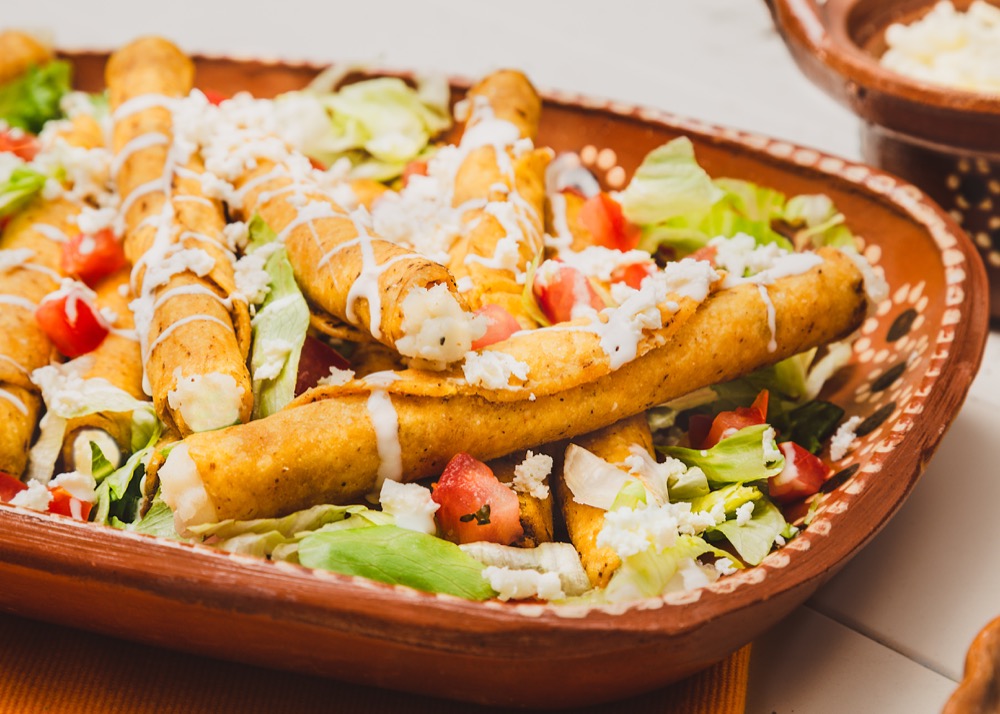 Flautas are made from tortillas that are filled, rolled up and fried. They can be made with beef, cheese or chicken, or anything you like! The result: a long, thin roll that's extra crispy and bursting with a savory, spiced filling.
Cooking Instructions
Place the potatoes in a pot and cover in water. Bring to boil and once boiling, bring the flame down to medium and let it cook for 15-20 minutes or until potatoes are tender.
Pour the content of the pot into a colander and leave the potatoes there to cool down and remove excess water for 5 minutes.
Place the potatoes in a bowl, add the olive oil and salt and then smash them using a fork or masher. Then add the milk and continue smashing until you achieve a smooth consistency.
Reheat the tortillas and place them in a tortilla warmer or tea-towel so they stay soft.
Grab one tortilla at a time and put a tablespoon full of potato mash and extend along the tortilla. Roll the tortilla and place a toothpick horizontally to keep the tortilla rolled. Do the same for the rest of the tortillas.
On a very hot saucepan add a tablespoon of vegetable oil and put 3 to 4 tortilla rolls. Every minute flip the rolls so all sides are fried.  Fry them for a maximum of 5 minutes or until crunchy.  Place the rolls on a plate with paper towels to absorb the excess oil.
Repeat step 6 for the remainder of the tortilla rolls.
Place the tortilla rolls (or flautas) on a plate and cover with lettuce on top. Then add the radish slices, coriander, guacamole and salsa on top.
Notes:
You can add vegan cheese (or normal cheese for vegetarian version) to the tortilla and mash potato before rolling
You can also add vegan cream or veganaise on top of the lettuce.
We are makers of award-winning traditional corn tortillas and tortilla chips, sold Australia-wide
Where To Buy
Want more Mexican? Get recipes, tips and news straight to your inbox!
You may also like:
8 Quick & Easy Tortilla Recipes
Check out these great ideas for quick and healthy snacks and meals.