8 Super Quick Meal Ideas Using Tortillas
8 Super Quick Meal Ideas Using Tortillas
Articles
8 Super Quick Meal Ideas Using Tortillas
Corn tortillas are a very useful addition to your pantry for those many times when time is tight and hunger is high. There are many ways they can be incorporated into your daily diet and made into super quick meals for breakfast, lunch, snacks and dinner.
Jazz up your leftovers by turning them into tacos, whip up a quick quesadilla toastie on the sandwich press, or move beyond the basic eggs on toast to create a Mexican gluten free breakfast instead. Also if you're looking for a gluten free replacement for bread, these quick meals are a great place to start.
Each of these meal ideas take very little time to make and are sure to become regular family favourites.
1. SCRAMBLED EGG TACOS
BREAKFAST
Eggs and tortillas are a match made in heaven. Add to that some diced tomatoes, diced onion, coriander and you have breakfast perfection. Serve your scrambled eggs with tortillas on the side, to make up each taco as you go. Top with a spicy salsa and you're set. Try this traditional 'Huevos Revueltos a la Mexicana' recipe.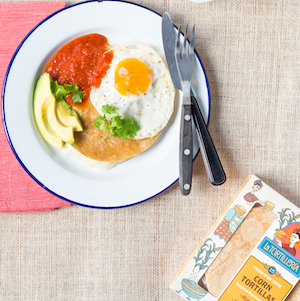 2. FRIED EGG ON TORTILLAS
BREAKFAST
Forget bread, using tortillas instead will take your breakfast to next level. Sandwich some cheese between two tortillas and heat in a frying pan or sandwich press until melted. Or do the same except with refried beans between the tortillas. Place your fried eggs on top and serve with salsa, avocado, fresh tomato, bacon…you get the idea. An amazing gluten free Mexican breakfast. To make it extra authentic try our traditional 'Huevos Rancheros' recipe.
3. QUICK QUESADILLAS
SNACK
This is a great option for getting kids (and adults!) to eat some veggies…hide them in a delicious quesadilla! Slice and grill some mushrooms with garlic and onion, and place in between two tortillas (or one folded in half to be more authentically Mexican!) with some cheese, and heat in the frying pan or sandwich press until melted. Works great as well for grilled capsicum, broccoli, zucchini, nopales (cactus) and more. If you want a slightly fancier version try this Goat's Cheese & Wild Mushroom Quesadilla recipe.

4. HAM & CHEESE TOASTIE
SNACK
This old classic just got better. Instead of using bread, you use corn tortillas. Simple. And so much better. In Mexico this is called a 'sincronizada'. Whip them up in the frying pan or sandwich press. You can even get fancy using different types of cheeses!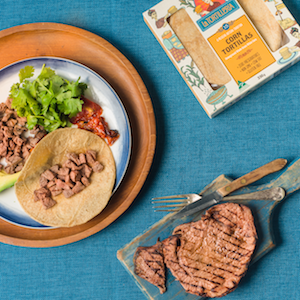 5. GRILLED STEAK TACO
DINNER
Up your game at your next BBQ and serve your meats in tortillas. A much better carrier for your snag and steaks than crappy white bread slices. Heat your tortillas on the BBQ, cut up your freshly grilled steak and place it on the tortillas with some salsa, coriander and onion garnish on top. Your guests will be uber impressed. If you'd like to try your steaks with a traditional Mexican marinade check out this Tacos de Carne Asada recipe.

6. VEGGIE ENCHILADAS
DINNER
Learning the basic enchiladas assembly will open up a world of dinner possibilities, and enlighten you to a perfect way to use up leftovers. (1) Choose your favourite roasted or grilled vegetables like potatoes, capsicum etc. for fillings; (2) Boil some tomato, onion, garlic and chile in a pot for about 15 minutes, drain and discard the water then blend into a salsa. (3) Heat some oil in the bottom of a frying pan and fry each tortilla for about 8 seconds each side until golden but not crunchy, then drain on paper towel. (4) Place each tortilla on a serving plate, add the filling, fold it in half and then pour your easy homemade salsa over the top. Instead of veggies you can also try this simple chicken enchilada recipe.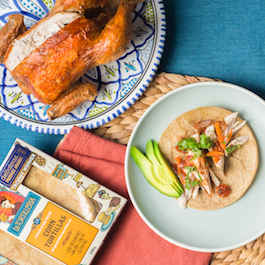 7. BBQ CHICKEN TACOS
DINNER
The quickest, easiest dinner ever. Pick up a BBQ chicken from your local chicken shop or supermarket, shred it, put it on some heated tortillas, and serve with avocado slices, tomato and your favourite salsa (it goes great with this chipotle salsa recipe). Dinner sorted super quick.
8. SLOW COOKED SHREDDED TACOS
DINNER
Slow cookers and tortillas are a match made in easy dinner heaven. Almost anything that comes out of a slow cooker is going to taste great turned into a taco. Try slow cooked lamb with Mexican dried chiles and spices, or this great Cochinita Pibil pulled pork recipe. Once the slow cooker has done its work, it's just a matter of shredding the meat, placing it on a heated tortilla and topping with a basic garnish and salsa.
We are makers of award-winning traditional corn tortillas & tortilla chips, sold Australia-wide
Where To Buy
Want more Mexican? Get recipes, tips and news straight to your inbox!
You may also like:
8 Super Quick Meal Ideas Using Tortillas